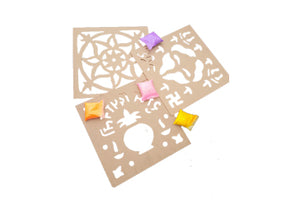 Square Stencil Rangoli
Regular price $19.99 Sale
Rangolis are an ancient Indian art form, wherein beautiful, intricate patterns are drawn on the floor to beautify your living space. Traditionally, rangoli designs were passed on for generations and used to be made with colored rice, dry flour, colored sand or flower petals. Usually made during Diwali and other special occasions and festivals, many people also use rangolis as affordable wedding decorations for your home in the GTA. But creating rangolis today is no cakewalk. People just don't have as much time as they used to but are still looking for convenient ways to incorporate and celebrate the Indian culture in their lives. 
If you're concerned that your artistic abilities might just not be up to par, then our DIY Stencil Rangolis will surely help you create beautiful, symmetrical rangolis with minimal effort.
Introducing our Do-It- Yourself Traditional Wooden Rangoli Stencil. Just add the colors and remove the stencil to get fast and beautiful rangoli design. Available in different designs. No Rangoli colors included. Colors can be purchased seperately at additional cost.
Size: 18 inch (diameter)