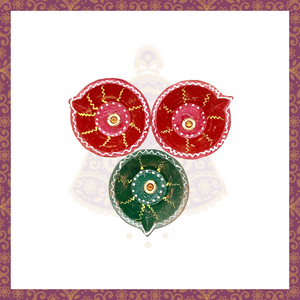 Traditional Diwali Diya
Regular price $10.00 Sale
$10 for 4 diyas
This festive season, Bling and bells bring you a wide range of traditional, hand-crafted contemporary and modern Diwali Diya. This Diwali Diya will enhance the liveliness of any occasion be it Navratri or Garba celebration, Durga pooja or Diwali.
You can enhance the beauty of your house with this Diwali Diya by adding them to your doorstep, windows & balcony, office space, garden and rangoli art. 
Diyas signify purity, goodness, good luck and power. Therefore, this makes them one of the perfect gift to give your loved ones this Diwali and Navratri.